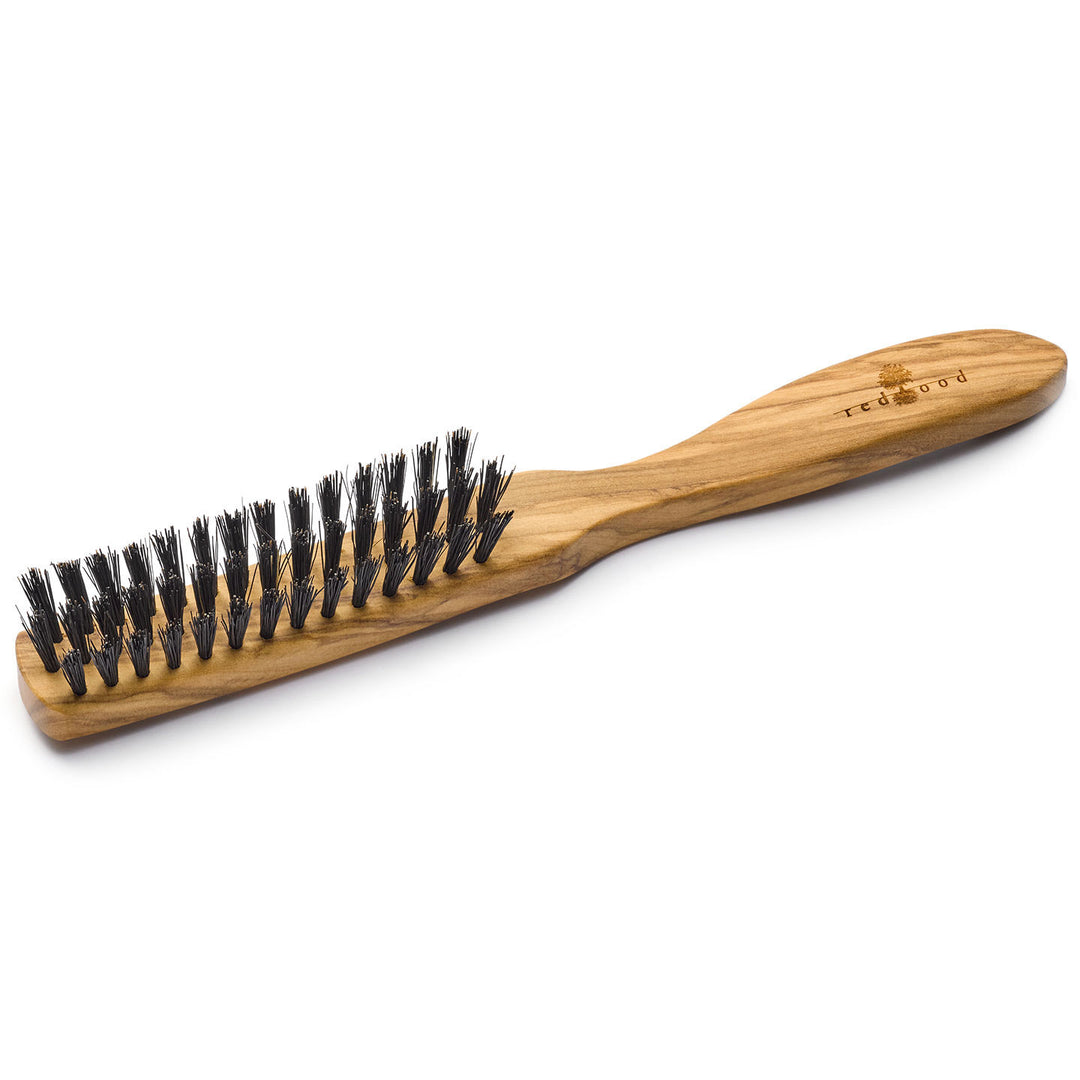 Classic hairbrush, olive wood, for short to long, straight or wavy hair
RW504107
Regular price
$24.95
/
excl. VAT.
Shipping
calculated at checkout.
---
Our classic olive wood hairbrushes are made of high quality olive wood and studded with selected wild boar bristles. The raw materials come from sustainable forestry and agriculture and are processed in a German company under the highest precision. This is based on an elaborate manufacturing process that guarantees smooth surfaces and ensures gentle treatment of your hair and scalp.
Length: 20 cm
Bristles: Very narrow, stiff black boar bristles, 3-rowed
Suitability: short to long, straight or wavy hair; styling brush.
The boar bristles have a similar structure to human hair. This enables them to absorb excess sebum from the hair cells and distribute it to the ends of the hair during brushing. This is equivalent to a natural hair treatment and gives your hair a healthy shine. The hair brush's staggered bristles gently reach down to the scalp, promoting its circulation and stimulating the hair cells. For balanced conditioning, brush your hair using the entire bristle surface and an even pressure in all directions.
Since the wood grain of the hair brushes always varies, each of these utensils is a small charming unique. The extremely pleasant feel of our brushes allows, even with daily use, a comfortable care of your hair.
The numerous advantages of our real wood hairbrushes at a glance:
Very natural, pleasant feel.
No sharp edges that injure or even cut the hair.
Natural, high-quality bristles that promote a healthy hair structure.
Made from organic, CO2-binding wood.
Raw materials are sourced exclusively from sustainable forestry and agriculture.
Our real wood hair brushes have a long life span.
Easy cleaning to maintain the quality of the hairbrushes.
Made in Germany.
Care instructions
Use our Redwood Brush Cleaner to effortlessly remove lint and snagged hair from between the bristles. Clean the hairbrush from time to time with a mild, silicone-free shampoo or soap and warm water, then rinse under cold water. Dry the wooden body with a soft cloth and let the brush dry standing on the bristles. Regular oiling with a natural oil such as linseed oil or olive oil will protect and maintain the wood.