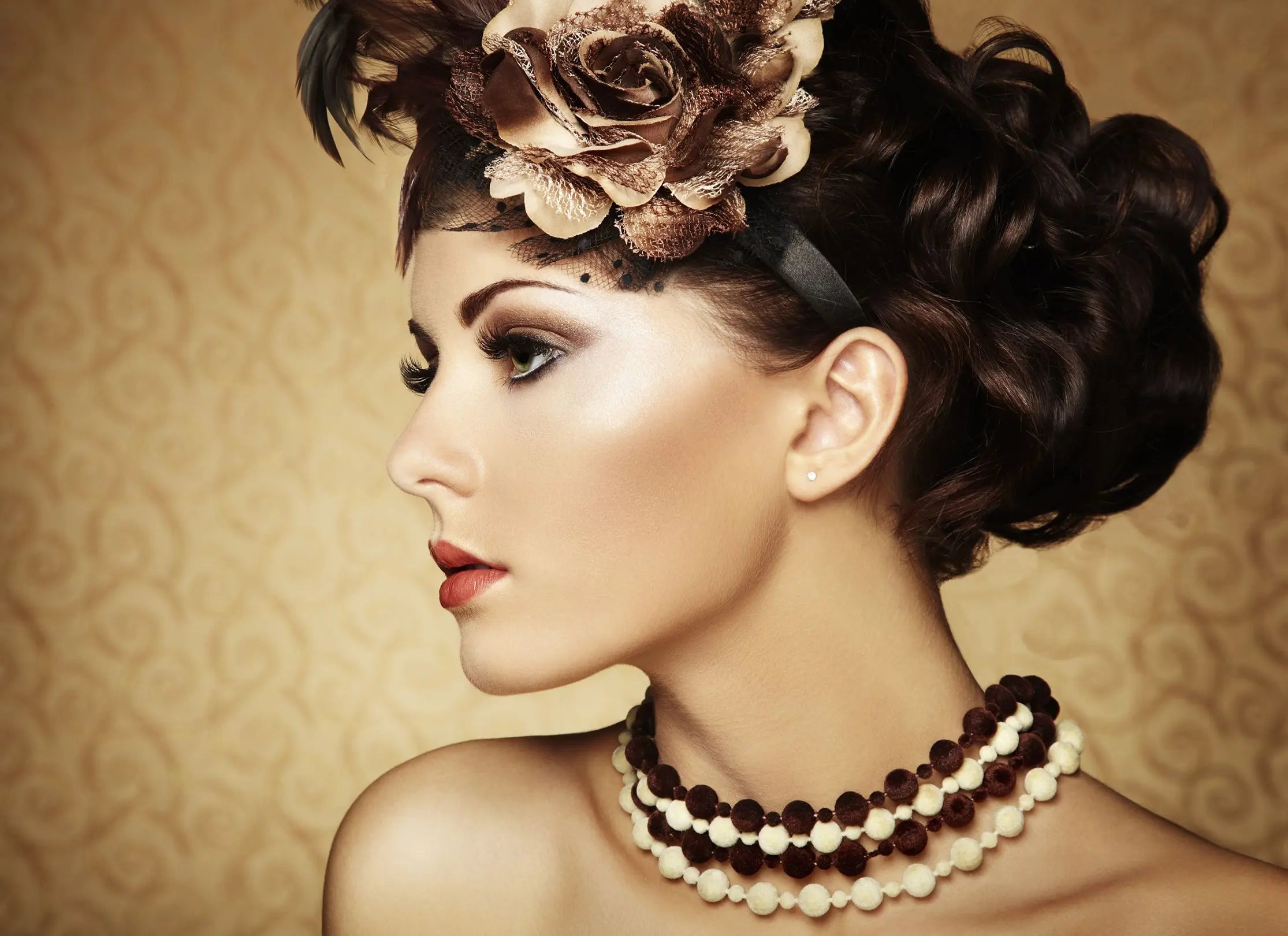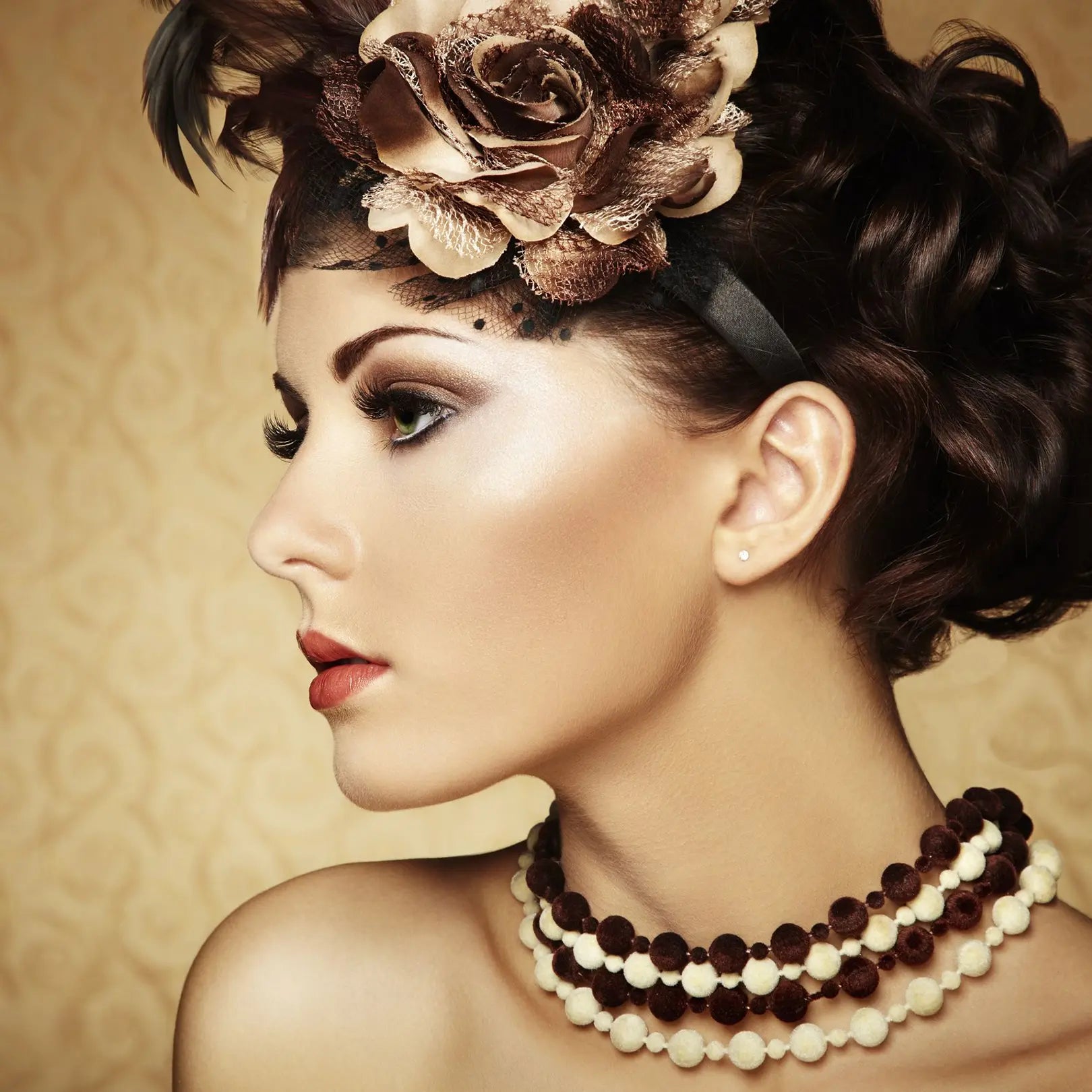 Hair Jewellery and Hair Accessories
For the quality-conscious lady.
Welcome to REDWOOD, your online shop for high-quality hair accessories from fair production.
In our assortment you will find hair accessories in various designs and made of high-quality materials, which are lovingly handcrafted in Germany, Austria and France.
At REDWOOD we distinguish hair accessories in the following eight categories:
You will find our hair accessories assigned to 30 tasteful, colour-varying collections.
All of our hair accessories are characterised by their expert and high-quality manufacturing. Many hair accessory manufacturers rely on inexpensive materials such as plastic and injection moulding, which are mass-produced by machine. The hair combs, hair pins and hair elastics produced in this way usually have a limited lifespan and are not always comfortable to wear. In order to be able to offer our customers a welcome change from these everyday products, we rely on handicraft and the processing of high-quality materials. Hair clips, barrettes and combs from REDWOOD are made of materials such as real horn, real wood and Rhodoïd. For the production of our hairpins, hair elastics, brushes and combs, we rely not least on domestic, European woods, such as olive wood, and natural horn - materials that guarantee a long life.
Rhodoïd Cellulose Acetate Hair Accessories
Many of our hair accessories are made from the material Rhodoïd cellulose acetate, or Rhodoïd for short. Rhodoïd was first extracted from Italian cotton around 1917 and lends itself perfectly to producing hair accessories that are both beautiful and long-lasting. Rhodoïd is a sheet material made in Italy from natural cotton. The cotton is first dyed in a shade of your choice and then mechanically pressed into solid blocks. These blocks are then cut into thin slices. From these Rhodoïd slices, elegant hair clips, Barrettes and hair clips in various shades and with a natural sheen are created in more than ten work steps. The special thing about this production is that each hair accessory is given its own pattern. Each hair accessory made of Rhodoïd cellulose acetate is thus a small unique specimen.
Hair jewellery made of Rhodoïd offers several advantages over hair accessories made of cheap raw materials such as plastic or injection moulding. For example, when Rhodoïd is processed into hair clips and barrettes, there are no sharp edges that could damage or even cut your hair. Furthermore, Rhodoïd is a very stable material. Even when worn frequently, hair accessories made of Rhodoïd retain their shine for many years. In addition, hair bands, hair clips and hair combs made of Rhodoïd cellulose acetate are extremely robust and can withstand several falls without damage. However, if you notice any damage to your hair accessory, simply send it to us and benefit from our two-year warranty. A special advantage of hair accessories made of Rhodoïd cellulose acetate: they are extremely comfortable to wear and can even be adjusted to any shape and size. Rhodoïd becomes soft when heated. If you want to change the shape of your hairband or hairpins, simply place the hair accessory in hot water or blow-dry lightly. Then you can carefully bend the hair accessory into the desired shape. You can repeat this process as often as you like without damaging your hair accessory. Convince yourself of the many advantages of our hair accessories made of Rhodoïd cellulose acetate.
Hair ornaments with rhinestones and Bohemian garnets
Enchant your hairstyle with a hair accessory of a special class.
With real rhinestones, you can make your hair shine. Especially on special occasions like a gala or a wedding, hair clips with rhinestones should not be missing. Discover our Crystals hair accessories collection. It is rich in elegant hair clips decorated in different patterns with the expensive little glass crystals. Or simply design your own shiny hair accessory by contacting us and telling us your individual wishes. On request, we will be happy to stud any Rhodoïd item with the popular rhinestones.
In general, we pay attention to a high level of quality in all our products. That is why, when we use crystals, we trust in a manufacturer whose crystals are known for their high quality. For more than 120 years, the Austrian family business has been one of the most important and largest producers in the fashion jewellery and crystal glass industry. Because the small crystal elements enjoy great popularity, we would like to make it possible for our customers to wear rhinestones in their hair as well. To ensure that you can enjoy your beautiful hair accessory for a long time, no ordinary industrial glue is used to join the rhinestones to the hair clips. Instead, each individual element is heated by hand and placed on the hair accessory. This process guarantees that the crystal elements remain fixed for a long time. However, should any elements come loose or break out of your hair clip, we will be happy to repair it for you.
Real wood hair ornaments
Wood has been one of the most important materials since the beginning of our civilisation. Even the first hair ornaments and hair accessories were largely made of wood. We have preserved this tradition until today. Many manufacturers have long since switched to cheaper materials such as plastic. We, on the other hand, continue to trust in the durability, naturalness and classic, noble charm of hairpins and hair clips made of finely processed European wood.
Unfortunately, the topics of sustainability and regional production still get far too little attention. We at Redwood are therefore trying to break away from globally transported and petroleum-based products. A first step is undoubtedly the reflection on natural raw materials for our hair accessories. Wood used to make our hairpins and combs is grown from a biological, natural process and is therefore a CO₂-binding material. Processed in detailed handwork within Europe, our hair accessories have no sharp edges that could endanger your hair when worn. Most of our products are made in Germany and Portugal under fair conditions. Our wooden hair accessories are glazed with 100 percent natural linseed oil. Unlike other natural oils, linseed oil hardens completely. This glaze preserves the enchanting shine of your hairpins and barrettes, is water-repellent and protects the hair accessories from drying out. With a little care, you will be able to wear wooden accessories for many decades.
One last special feature of natural wood: each hair accessory is absolutely unique and a little one-of-a-kind. As you know it from pieces of furniture made of precious wood, the hair accessories made of wood in our range also have their own individual grain. See for yourself in our shop the natural charm of the hair accessories made of real wood and give your hairstyle an elegant, natural touch.
Sustainable Hairbrushes and Combs
Regular brushing and combing is elementary for healthy hair. "100 brush strokes a day" - this beauty wisdom is hundreds of years old and resonates to the present day. Today we know that this alone is not enough. The right hairbrush and the right hair comb made of high-quality materials are just as important for comprehensive hair care. Natural materials such as wood, horn, wild boar bristles, domestic pig bristles and sisal have always stood the test of time and care for the hair in a completely natural way. That is why we at REDWOOD have specialised in natural hairbrushes and real wood combs whose materials come exclusively from sustainable agriculture and forestry and have an extremely long life and lasting quality. An elaborate manufacturing process consisting of more than 20 serial work steps ensures a burr-free, smooth surface.
Both the hair comb and the hair brush have important functions in daily hair care. With the comb, knots can be gently untangled and the hair is tidied. Individual sections of hair can be toupeed and styled into the desired shape. It is suitable for dry and damp hair and, with its evenly rounded teeth, is particularly gentle on the scalp and hair structure. Our hairbrushes are fitted with high-quality natural bristles that have a similar structure to human hair. This allows the excess sebum to be absorbed during brushing and optimally distributed over the entire length. A quickly greasy roots is reduced and the hair is supplied with nutrients up to the tips. It becomes healthier, stronger and shinier, completely without chemical additives.
For the correct use of brushing and combing, the following applies: from the bottom up. Brush and comb your hair in the direction of the hair ends, but do not start at the hairline, but near the hair ends. Gradually move the hairbrush or comb further up until you finally cover the entire distance from the hairline to the tip of the hair. This way you avoid unnecessary tearing and breaking of your hair.
REDWOOD offers natural hair care for every hair type. In our shop you will find a variety of hair brushes and hair combs in different sizes and widths as well as with different bristle rows and tine thicknesses for every hair care need.
Hair ornaments made from natural horn
Hair accessories made of natural horn are the perfect hair accessories for women who want to give their hairstyle a special shine. You won't find hair accessories made of real horn in any discounter. Unique material and loving workmanship make every hair clip in our range a real one-of-a-kind.
In recent decades, cattle breeding in Europe has enjoyed unprecedented growth. With the demand for culinary animal products, the number of cattle rose to new heights year after year. The breeding of these animals produces a natural by-product: horn. For a long time, this horn was simply considered a waste product. With sustainability in mind, we at REDWOOD have made it our mission to include horn as a natural material in our range of hair accessories. Real horn from cattle breeding is lovingly handcrafted in Austria to create noble and high-quality hair accessories. These hair accessories, including hair clips, hair combs and hair pins, benefit from the numerous advantages of horn material.
Horn is an extremely robust and stable material. Hair clips and hair clasps made of real horn have an extremely long life and only take damage under high mechanical influences. To break a hair comb or an ear stud made of real horn requires increased force. With a hair accessory made of real horn, you buy a care and jewellery item that you will keep and wear for decades. Of course, durability does not only apply to the material itself - the natural shine of the horn will also remain for many years. If your hair clip or hairpin made of real horn looks a little dull, all you have to do is treat it with Vaseline, cooking oil or polish. In this way, the original shine can be restored within minutes. If, despite everything, a horn item should ever break, we will be happy to take care of the repair. Order hair accessories made of real horn and enjoy them for many decades to come.
Sustainability
Sustainability is important to us at REDWOOD. That's why almost all of our hair accessories are made from natural materials. These include pressed cotton, also known as Rhodoïd, but also natural horn or real wood. Whether you choose our hair clips and hairpins made of real horn or prefer a classic Rhodoïd hair clip is of course up to you. In both cases, however, you can be sure that you are not dealing with a chemical injection moulding or plastic article, but with natural products that are elaborately handcrafted in Germany, France, Austria and Portugal. For more information on our sustainability claims, click here: Sustainability.
At REDWOOD you will find hair accessories in many fashionable variations. For elegant and dark dress codes, we recommend, for example, hair clips and hair bands from our Prague, Oslo, London or Milan collections. These hair ornaments made of beautiful Rhodoïd enchant with fine black and brown nuances. Or are you looking for something classic for special occasions like a gala or a wedding? Then our Recife, Vienna, Alicante or Florence collections are just right for you. Would you even like exquisite hair accessories with an eye-catcher? Then go for our hair accessories with precious rhinestones. And if you are just curious, then simply browse a little in our REDWOOD online shop and let yourself be enchanted by beautiful hair jewellery and hair accessories.