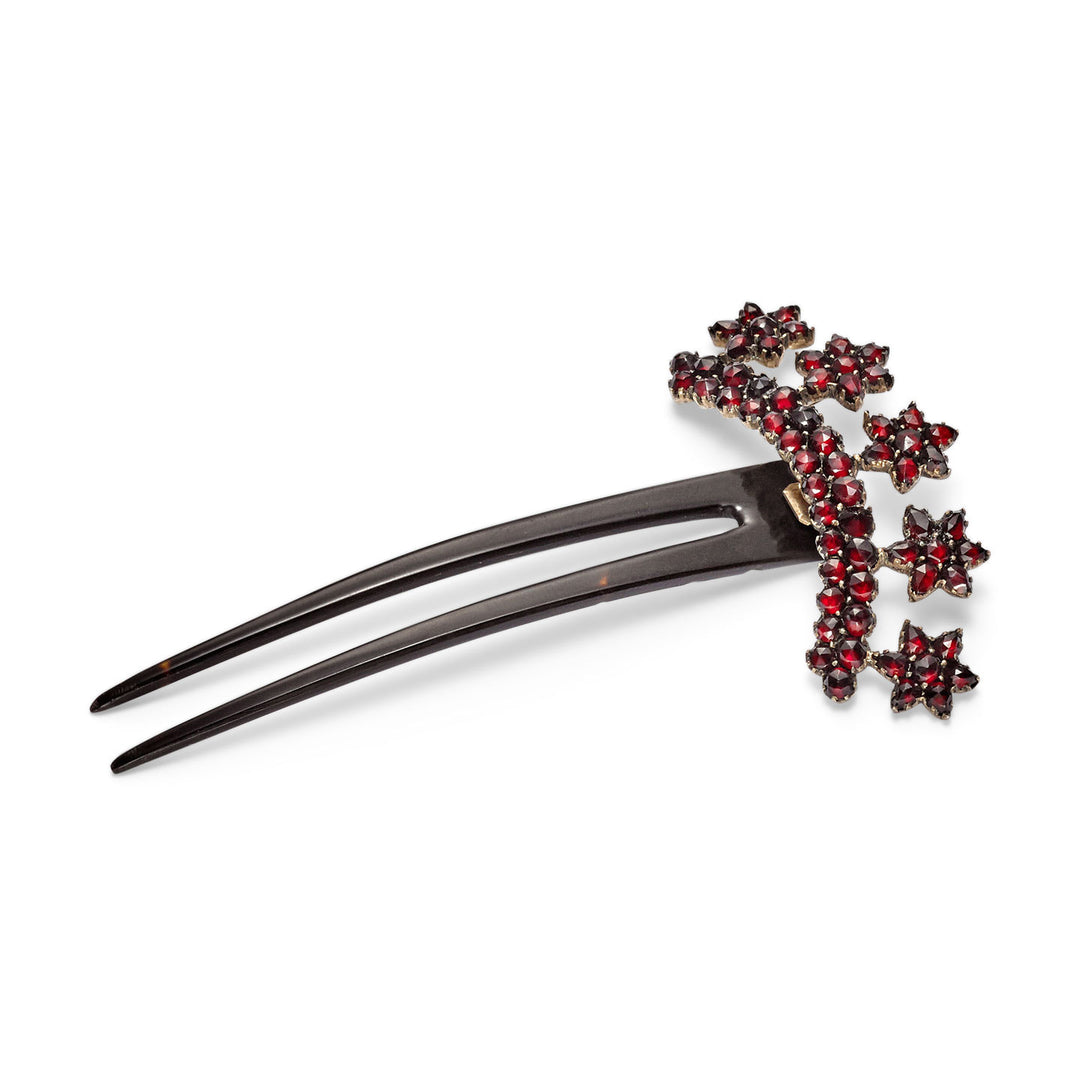 Antique hair fork, star-shaped crown of Bohemian garnet, real horn
RW_haarforke_antik_5
Regular price
$885.95
/
excl. VAT.
Shipping
calculated at checkout.
---
This hair fork is decorated with original Bohemian garnet in a star-shaped setting, making it one of our luxurious hair jewelry pieces. At the same time, it breathtakingly embodies the treasures of Europe with its precious materials and enchanting design. The high-quality horn originated in Europe and was processed in an elaborate procedure to this valuable hair jewelry.
The deep red gemstones symbolize both passion and purity and set with their unique shine in light as well as dark hair, beautiful accents. The star-shaped setting of the Bohemian garnets and the slightly curved bow give the hair fork a feminine and at the same time playful character, which is wonderfully complemented by the dark color of the horn and the filigree body.
The intense hue and glassy luster of the Bohemian Garnet have always elegantly underscored the nobility of its wearer. The timeless beauty and natural properties of Bohemian Garnet give the hair fork a longevity that lasts for decades. Wear this exquisite piece of hair jewelry on very special occasions and shine in the wonderful glow of the gemstones.
Dimensions of the hair fork
Total length: 9.8 cm
Total width: 5.9 cm
Number of prongs: 2
Advantages of this hair fork
Softly rounded edges for hair-friendly styling
Highly comfortable to use, gentle on the hair and scalp
Original Bohemian garnet and high quality real horn for a long lifetime
A small hinge for optimal alignment in your hairstyle
High resistance to breakage
Easy care for lasting shine
Handmade in France
Use of the hair fork
The hair fork is suitable for medium length as well as long hair. In just a few easy steps, you can fix your hair into an elegant updo or a semi-open hairstyle. The slightly curved, pointed tines glide gently through your hair without roughening the hair structure or scalp and at the same time find a firm hold.
A fine hinge allows the garnet-studded jewelry part to be rotated into different orientations. This allows you to arrange the hair fork perfectly in the hair according to your wishes. Wear the hair fork on special occasions in a variety of hairstyles such as a Celtic knot, figure-eight chignon or a half bun. In doing so, you will set breathtaking accents with the play of colors of the horn and the natural shine of the Bohemian garnet.
Material
This hair fork is made of high-quality genuine horn and set with original Bohemian Garnet. The raw materials, which come from Europe, are processed in an extremely elaborate manufacturing process and then precisely handcrafted into this exclusive piece of hair jewelry. Special attention is paid to the exact insertion of the gemstones, the clean rounding of the edges as well as the smooth surfaces to ensure a comfortable wearing experience with the highest quality.
The horn as well as the Bohemian Garnet are by nature very resistant, unbreakable, robust and temperature resistant, which guarantees a long life and allows the hair fork to outlast generations. The natural texture of the horn and Bohemian Garnet make each of these hair forks beautifully unique.
Care instructions
Horn and Bohemian Garnet are naturally very durable and do not require any special care. If your hair fork made of real horn looks a bit dull, it is sufficient to treat it with Vaseline, cooking oil or polish. In this way, the original shine of the real horn can be restored within minutes.
If you use hairspray in your hairstyles, clean the hair ornament gently with a damp cloth immediately after wearing it to remove any residue that may cover the gemstones and horn like a film.
Packing and shipping
When packaging our items, we strive for a reliable balance between transportation safety and sustainability. Therefore, we use only recycled paper, cardboard boxes, and environmentally friendly packing tape and cotton bags made from naturally renewable resources. Each item is carefully wrapped in a cotton bag, tissue paper or kraft paper, and then securely stowed in a cardboard box ready for shipment.
Fair Trade Hair Fork
Fair Trade is not just an additional feature for us, but a matter of course! That is why we have chosen suitable companies in Europe and against a cheap production in Asia or Eastern Europe.
It is essential for us that our products are manufactured under humane conditions from the extraction of raw materials to the final product. The close proximity allows us to get a closer look at the individual areas and creates significantly shorter transport routes, so we contribute to immense CO₂ savings and the well-being of the environment.
Our hair forks as well as their packaging are largely made from biodegradable raw materials that come from sustainable agriculture. By producing in Germany, France, Austria and Portugal, we can fully guarantee compliance with EU environmental standards compared to products produced in Asia.