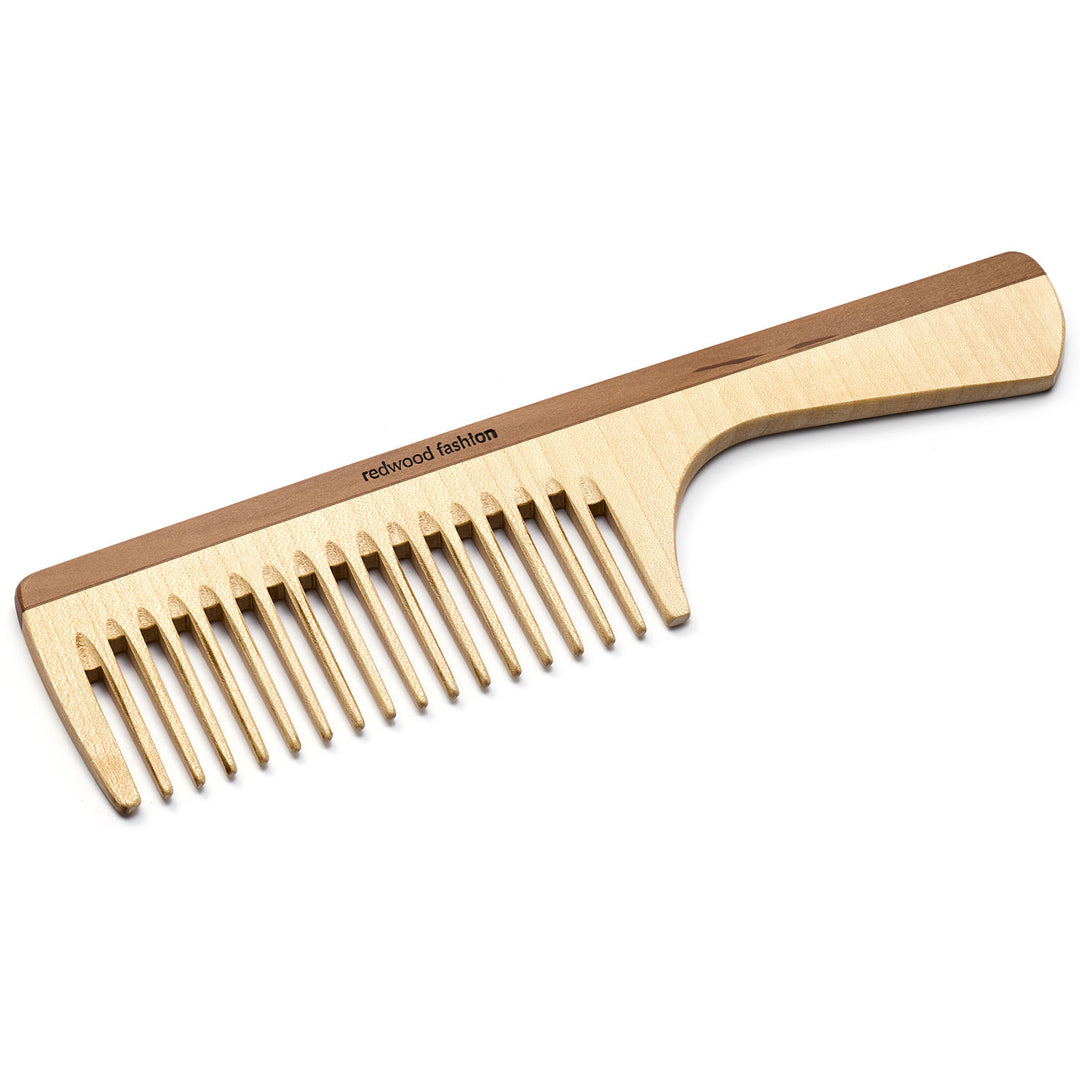 Strand handle comb made of wood for medium to long, wavy or curly hair
RW500105
Regular price
$39.95
Sale price
$31.95
Save 20%
/
excl. VAT.
Shipping
calculated at checkout.
---
Our styling combs are made from finely textured fruit and hardwoods from sustainable, local forestry and agriculture in Germany. Years of experience have resulted in an elaborate manufacturing process that guarantees precision and even surfaces. Here, the grinding and rounding of the tine tips receives special attention to ensure softly rounded edges.
Length: 24 cm
Tine width: 3.2 mm for medium to long, wavy or curly hair.
With these features of our combs, your hair can be detangled and structured without roughening the hair structure. The size of the tines makes our styling combs especially suitable for large hair volumes and wavy as well as curly hair. The natural materials make the real wood comb naturally elastic, antistatic and stable. The comb has a particularly pleasant feel due to its surface finish and, with its ergonomically shaped handle, lies comfortably and securely in the hand, even when used frequently.
To find a styling comb that suits your needs, pay attention to the size and spacing of the tines when choosing. The more voluminous and curly your hair, the coarser the tines and larger their spacing.
Since the wood grain of the combs always varies, each of these utensils is a small charming unique. The advantages of our real wood combs are obvious:
Very natural, pleasant feel.
Softly rounded edges that gently arrange and structure the hair.
Naturally elastic, antistatic and stable.
Made from organic, CO2-binding wood.
The wood is sourced exclusively from sustainable, regional forestry and agriculture.
Our styling combs have a long life span.
Easy cleaning to maintain the quality of the combs.
Made in Germany
Care instructions
Avoid prolonged contact with water. Wash the comb periodically with a mild, silicone-free shampoo or soap, rinse under clean water and then dry immediately. Oiling with a natural oil such as olive oil or beeswax balm optimizes care and makes the surface of the styling comb shine.