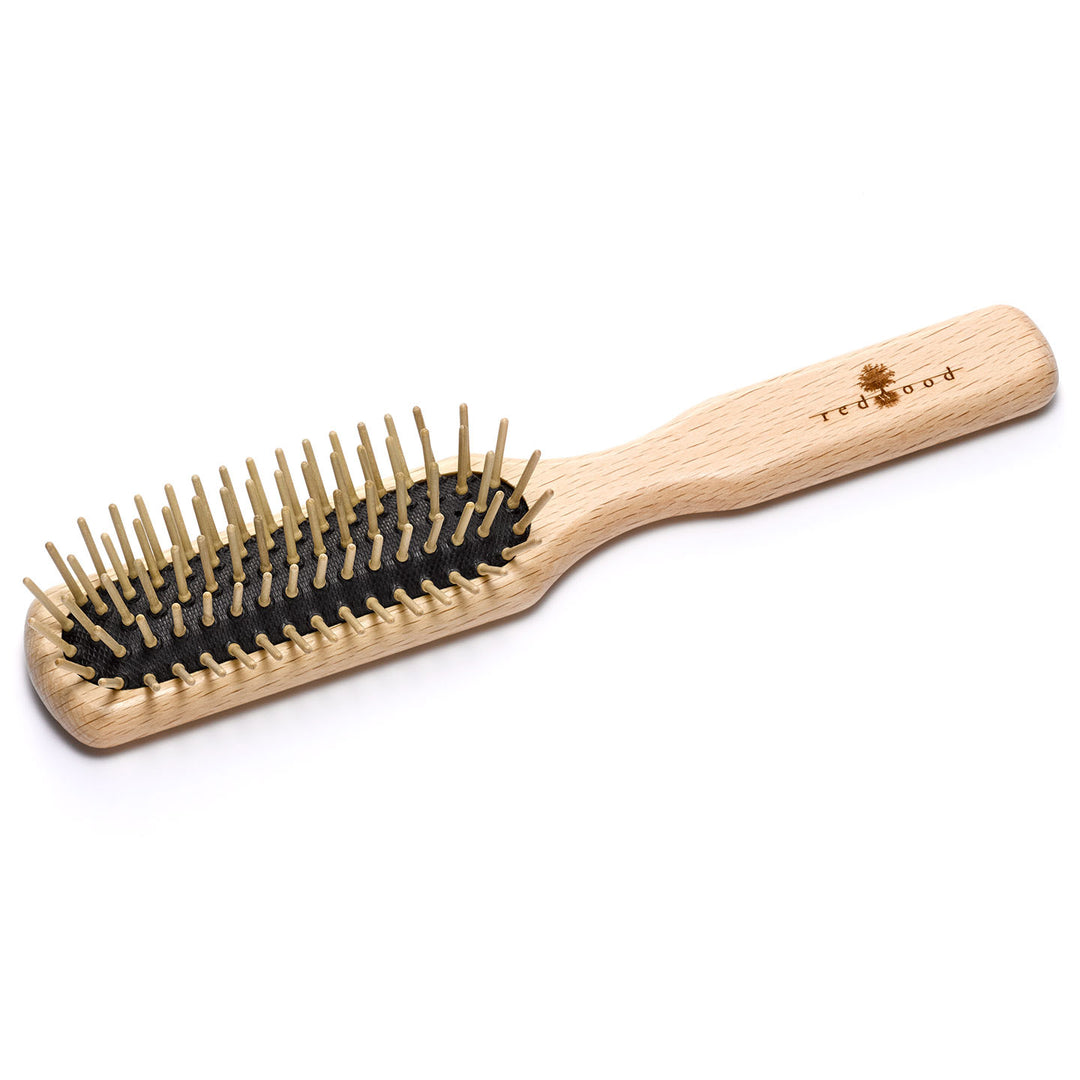 Massage hairbrush, beech wood, for medium length to long, straight or wavy hair, with intensive massage effect
RW504500
Regular price
$18.95
/
excl. VAT.
Shipping
calculated at checkout.
---
The massage hairbrush was made of high quality beech wood in a complex manufacturing process. Due to the straight wooden pins, this hairbrush is particularly suitable for brushing and caring for medium-length and long as well as straight or wavy hair.
In doing so, the wooden pins gently grip through the hair without roughening the hair structure, while providing an intensive head massage. Both damp and dry hair can be cared for and tidied in a particularly gentle way with this massage hair brush, while at the same time gently pampering the scalp.
Length: 21.5 cm
Brush pins: Straight wooden knobs, 5-row, black natural rubber.
Suitability: medium-long to long, straight or wavy hair; intensive massage effect.
Our beech wood massage hair brushes are made of high quality beech wood in Germany. Highest quality as well as sustainable forestry are fundamental characteristics in the choice of our raw materials and the production of our hairbrushes. A complex manufacturing process guarantees us even surfaces, soft edges and rounded brush pins, which ensure gentle hair care.
The smooth wooden pins are firmly fixed in a high-quality brush bed made of 100% organic natural rubber. The hole in the brush bed regulates a small air exchange, which gives the massage hair brush its necessary elasticity, ensuring a pleasant brushing of your hair. Our massage hair brushes are very strong and antistatic by nature.
When choosing a hairbrush, pay attention to the right pencil setting to obtain the ideal hair and scalp care for you:
Straight wooden pins give an intense scalp massage and are thus ideal for gently detangling large volumes of hair. The extra-long pins are optimal for voluminous or curly hair, while the conically rounded brush pins treat a sensitive scalp particularly gently.
Since the wood grain of the hairbrushes always varies, each of these utensils is a small charming unique specimen. The extremely pleasant feel of the wood of our hair brushes allows, even with daily use, a comfortable care of your hair.
The numerous advantages of our real wood hairbrushes at a glance:
Very natural, pleasant feel.
No sharp edges to injure or even cut the hair.
Pleasant hair care due to the matching wooden pins and the elastic rubber bed.
Natural, high quality wooden pins promote a healthy scalp and hair structure.
Antistatic by nature.
Made from purely organic raw materials (CO₂-binding wood and high-quality natural rubber).
The wood is sourced exclusively from sustainable forestry.
Our real wood hair brushes have a long service life.
Easy cleaning to maintain the quality of the hairbrushes.
Made in Germany.
Care instructions
Remove hair and lint residue using a redwood brush cleaner after each brushing. Wash the hairbrush regularly with warm water and a mild, silicone-free shampoo or soap, then rinse under clean water. Then rub the wooden body dry and let it dry placed on the bristles. Regular oiling with a natural oil such as olive oil or linseed oil maintains the wood and provides additional protection against moisture.