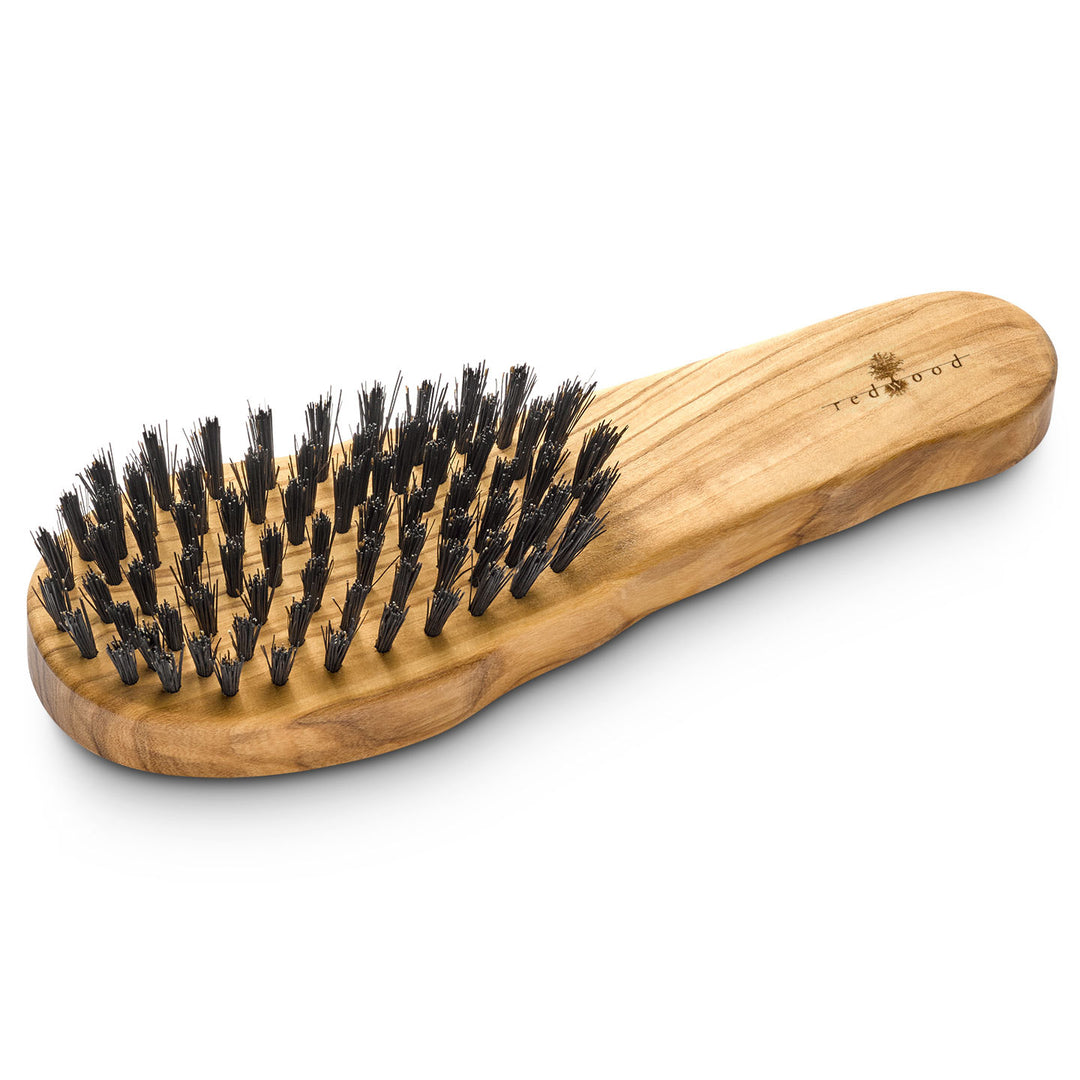 Long hair grooming brush, ergonomic, olive wood, for straight, wavy or curly hair
RW504070
Regular price
$71.95
Sale price
$54.95
Save 24%
/
excl. VAT.
Shipping
calculated at checkout.
---
The highest quality and ecological responsibility are fundamental features in the choice of raw materials and the manufacture of our grooming brushes. Our olive wood grooming brushes are made of high quality olive wood from sustainable forestry and studded with exquisite boar bristles from the first cut. This is based on an elaborate manufacturing process that ensures smooth surfaces and soft edges for gentle hair and scalp care.
Length: 19.5 cm
Bristles: Hard boar bristles, 7-row.
Suitability: Straight, wavy or curly hair.
Due to their similar structure to human hair, the boar bristles are able to absorb excess sebum from the hair cells and distribute it to the ends of the hair. Thus, your hair gets a healthy shine and protective care, without any chemical additives. The staggered bristles of the hairbrush reach through the hair to the scalp and promote its circulation, as well as detoxification and stimulation of the hair cells. The extremely pleasant feel of our brushes allows, even with daily use, a comfortable hair care.
Our hair care brushes differ in the hardness of the boar bristles. When choosing a brush, pay attention to the degree of hardness that suits you best for optimal hair care. The more voluminous and dense your hair, the longer and harder the bristles should be.
Since the wood grain of the care brushes always varies, each of these utensils is a small charming unicum.
The numerous advantages of our real wood hair brushes at a glance:
Very natural, pleasant feel.
No sharp edges to injure or even cut the hair.
Natural, high-quality bristles promote a healthy hair structure.
Made from organic, CO2-binding wood.
The wood is sourced exclusively from sustainable forestry.
Our grooming brushes have a long life span.
Easy cleaning to maintain the quality of the hair brushes.
Made in Germany.
Care instructions
Use the brush only in dry hair. Use a redwood brush cleaner to remove lint and caught hairs from between the brushes and clean regularly with a mild shampoo and warm water. Rinse the grooming brush under cold water, rub the wooden body dry and let it dry placed on the bristles. Regular oiling with a natural oil such as linseed oil or olive oil protects and maintains the wood.