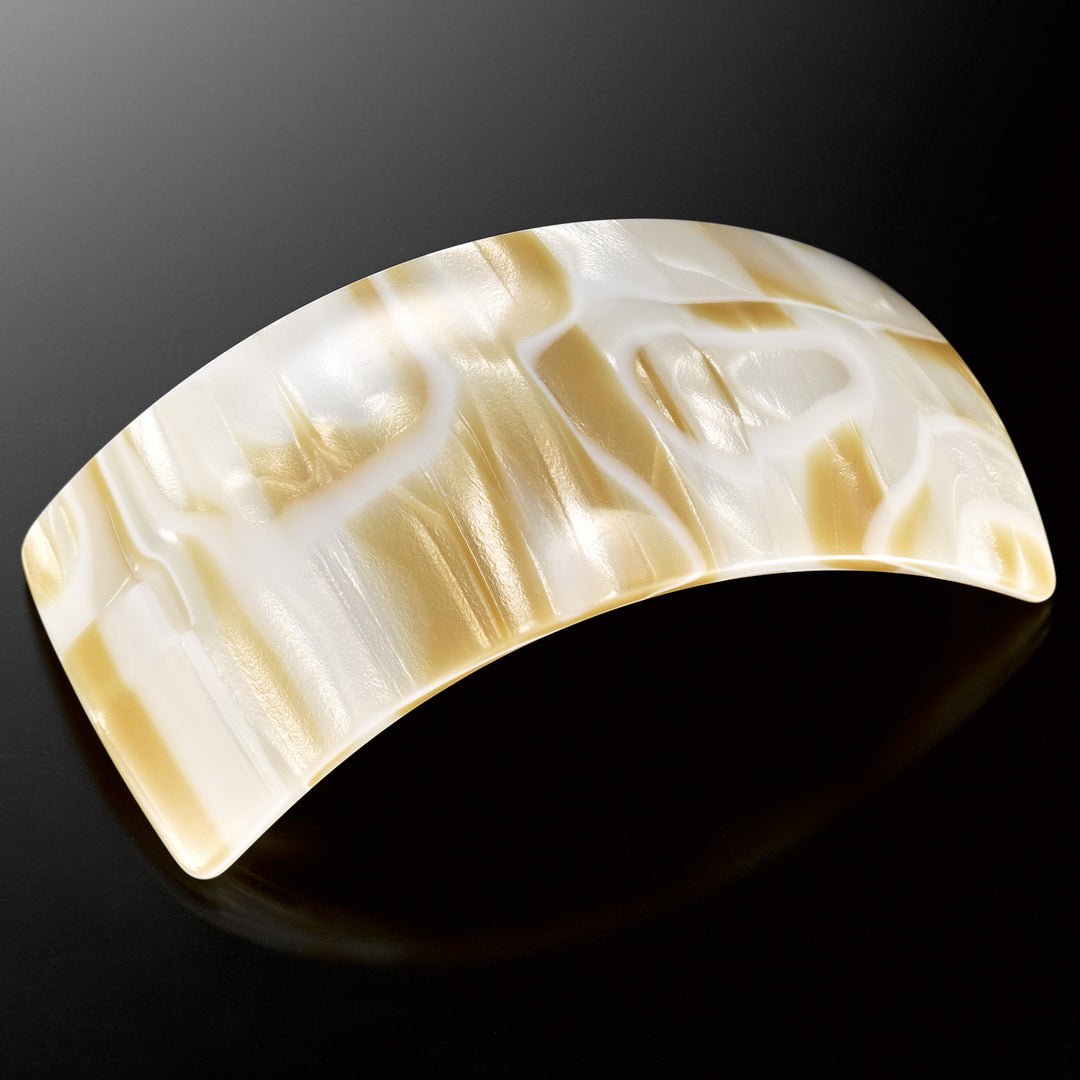 Hair clip Recife, large, wide
RW71449RC
Regular price
$24.95
Sale price
$17.95
Save 28%
/
excl. VAT.
Shipping
calculated at checkout.
---
Discover the Recife hair clip in large and wide - the ideal gift for women who love stylish hair accessories. These hair accessories are not only functional, but also an expression of elegance and exclusivity.
The Recife hair barrette embodies the fascinating depth and grace of Recife with its bright, pearly hues. It evokes the picturesque coral reefs and the boundless expanse of Recife's beaches. This extraordinary design will add a unique beauty to your hairstyle.
Whether you have thick or normal hair, this hair clip is perfect. It is ideal for medium length and long hair and will keep your hairstyle perfect all day long.
Make every day a special occasion by enhancing your hairstyle with the Recife hair clip. Make a fashion statement and highlight your personality with this exquisite hair accessory. Get your Recife hair barrette today and experience the beauty and grace it offers.
Hair barrette dimensions
Length: 9.0 cm
Width: 4.8 cm
Closure opening: 6.5 cm
Advantages of this hair clip
Suitable for normal as well as thick hair.
Suitable for medium length and long hair.
No sharp edges that hurt or even cut the hair.
High wearing comfort, which is gentle on the hair and scalp.
Organic base material (cotton).
Higher elasticity and breaking strength.
Longer life.
European quality.
Made in France.
Application of the hair barrette
The application of the Recife hair barrette in large and wide is effortless and will add a touch of elegance and exoticism to your look in no time. Whether your hair is thick or of normal type, this hair barrette is the perfect choice. It is specially designed for medium length and long hair and will hold your hairstyle securely in place.
Whether you opt for a loose ponytail or a more elaborate hairstyle, this hair clip will be your trusty companion. Turn your everyday life into a little adventure and rely on the Recife hair clip to highlight your personality in style. Get this exclusive hair accessory today and experience the beauty and exoticism it brings.
Material
Rhodoïd is a sheet material made in Italy from cotton. The cotton is dyed and pressed into varied color pattern blocks. Slices are cut from the blocks, which are then processed in France in more than ten steps to create enchanting hair jewelry items and hair accessories. The Rhodoïd hair accessory, which is elaborately and partially produced by hand, thus has the following advantages over the machine-produced plastic injection-molded article:
Packaging and shipping
When packaging our articles, we strive for a reliable balance between transport safety and sustainability. Therefore, we use only recycled paper, cardboard boxes, as well as environmentally friendly packing tape and cotton bags made from naturally renewable resources.
Fair Trade hair clip
Fair Trade is not only fundamental for us, but self-evident! That is why we have chosen suitable factories in Europe and against cheap manufacturing in Asia or Eastern Europe.
It is essential for us that our products are manufactured under humane conditions from the extraction of raw materials to the final product. The close proximity allows us to have a closer look at the individual areas and creates significantly shorter transport routes, so that we contribute to immense savings in CO₂ emissions and to the well-being of the environment.
Our hair clips as well as their packaging are largely made from biodegradable raw materials that come from sustainable agriculture. By producing in Germany, France, Austria and Portugal, we can fully guarantee compliance with EU environmental standards compared to products produced in Asia.