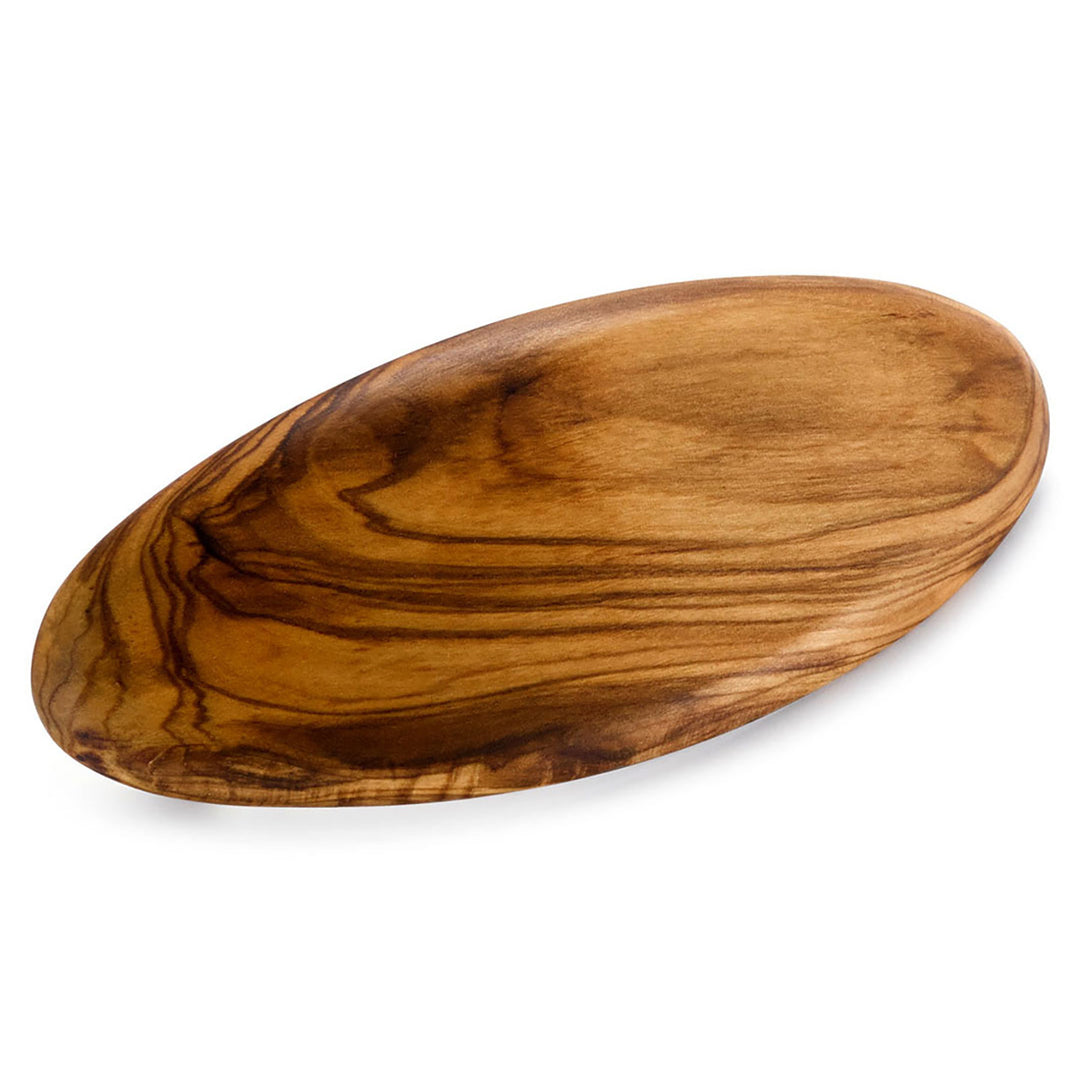 Hair barrette Mayor, large, olive wood
RW20814
Regular price
$26.95
/
excl. VAT.
Shipping
calculated at checkout.
---
Discover the perfect gift for women who love their hairstyle - our large oval hair clip made of olive wood. This hair accessory combines elegance and functionality and is equally suitable for both fine and thick hair, whether short or long.
The hair clip Mayor captivates with the subtle play of colors of the olive wood, which makes it a timeless piece of jewelry. It goes with any hair color and style of dress, from a morning stroll on the beach to a glamorous evening event. With an imposing size of 10 centimeters, it offers enough space to fix even large volumes of hair effortlessly.
This hair clip is not only a practical accessory, but also a statement of style consciousness. Add the finishing touch to your hairstyle and impress with this wooden hair accessory. If you're interested in the slightly smaller version, take a look at our Menor olive wood hair barrette. Treat yourself or your loved one to this unique hair accessory and make a fashion statement.
Hair barrette dimensions
Length: 10,5 cm
Width: 4,5 cm
Closure opening: 7.5 cm
Benefits of this hair clip
Suitable for fine as well as thick hair.
Suitable for both short and long hair.
No sharp edges that hurt or even cut the hair.
High wearing comfort that is gentle on the hair and scalp.
Organic, CO₂ binding base material (wood).
Natural, pleasant linseed oil glaze.
Very long life.
Water repellent.
Made in Europe.
For an extra long enjoyment of your hair accessory, we also offer to refurbish and re-glaze your favorite piece of hair jewelry. Just contact us, if from your side this wish exists.
Use of the hair barrette
The use of this hair clip is very easy. Simply style your hair as desired, place the barrette where you want it and your look will be instantly enhanced. Whether for everyday wear or special occasions, this hair barrette will add the finishing touch to your hairstyle and make you shine.
Looking for the perfect gift for women? Our wooden hair clip is an ideal choice. It combines beauty, functionality and sustainability in one accessory. Surprise your loved ones with this hair ornament that not only looks good, but is also eco-friendly.
Enrich your hair routine with our hair barrette and enjoy effortless elegance in seconds. Become a style icon and go for wooden hair accessories that are both practical and aesthetically pleasing.
Material
This hair accessory is made of high quality olive wood. It is neatly finished, the surfaces are smooth and have no sharp edges that could damage the hair.
To ensure that you can enjoy this hair accessory for a long time, our wooden items are glazed with natural linseed oil (without chemical additives). This not only emphasizes the beautiful wood grain, but also gives the hair accessory its natural shine and protects the olive wood from moisture. Since the wood grain of these hair accessories always varies, each one is a little unique.
Packing and shipping
When packaging our items, we strive for a reliable balance between transport safety and sustainability. Therefore, we only use recycled paper, cardboard boxes as well as environmentally friendly packing tape and cotton bags made from naturally renewable raw materials.
Fair Trade hair clip
Fair Trade is not only fundamental for us, but self-evident! That is why we have chosen suitable factories in Europe and against cheap manufacturing in Asia or Eastern Europe.
It is essential for us that our products are manufactured under humane conditions from the extraction of raw materials to the final product. The close proximity allows us to get a closer look at the individual areas and creates significantly shorter transport routes, so that we contribute to immense savings in CO₂ emissions and to the well-being of the environment.
Our hair clips as well as their packaging are largely made from biodegradable raw materials that come from sustainable agriculture. By producing in Germany, France, Austria and Portugal, we can fully guarantee compliance with EU environmental standards compared to products produced in Asia.