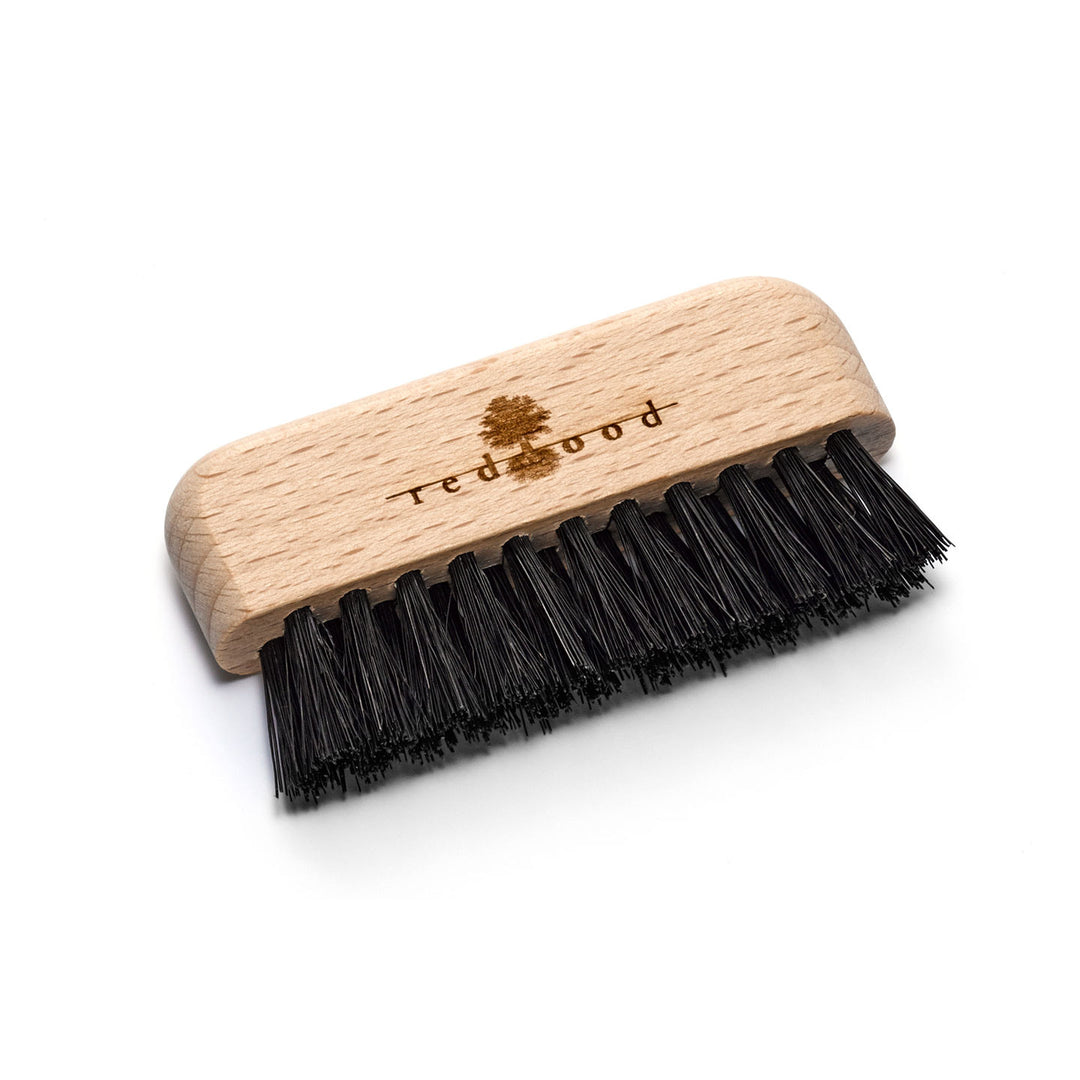 Comb and brush cleaner for washing out wooden and bristle brushes, beech wood
RW500546
Regular price
$5.95
/
excl. VAT.
Shipping
calculated at checkout.
---
Our comb and brush cleaners are made of high-quality beech wood from sustainable, regional forestry. In an elaborate manufacturing process, these are produced in a German company and studded with exquisite natural bristles. The even surface and rounded edges give the comb and brush cleaner an extremely pleasant feel.
Due to its nature, it is suitable for wet cleaning of your hairbrushes and combs. Keep the bristles and tines clean at all times for optimal hair care with just a few simple steps. Since the wood grain of our comb and brush cleaners always varies, each of these utensils is a little unique.
Dimensions of the comb and brush cleaner
Length: 7,5 cm
Bristles: Natural bristles, 2-row.
Suitability: for washing out wooden and bristle brushes.
Advantages of the comb and brush cleaner
Very natural, pleasant feel.
Easy, thorough cleaning due to close-knit natural bristles.
The raw materials come exclusively from sustainable, regional forestry and agriculture.
Our comb and brush cleaners have a long service life.
Made in Germany.
Application
Stir a few drops of a mild, silicone-free shampoo or mild soap into warm water. Dip the comb and brush cleaner into the solution and brush the spaces between your comb or hairbrush with light pressure. This will remove stuck sebum residue, dandruff, as well as buildup from styling products.
To loosen stubborn residues, soak the comb or hairbrush in the solution for up to 15 minutes and then clean it with the brush. Finally, rinse everything under clear water, rub the wooden parts dry and let the hairbrush dry standing on its bristles.
Care instructions
To support the life of their comb and brush cleaners, prolonged contact with water should be avoided. Remove the fuzz and hair residues brushed out immediately after cleaning. After contact with water, immediately wipe the wooden body and wire brushes dry and allow the comb and brush cleaner to dry placed on the wires.
Regular oiling of the wooden handles with a natural oil such as olive oil or beeswax balsam optimizes the care and gives the wood a shine and protection.
Packaging and shipping
When packaging our products, we strive for a reliable balance between transport safety and sustainability. Therefore, we use only recycled paper, cardboard boxes as well as environmentally friendly packing tape and cotton bags made from naturally renewable raw materials. Each item is carefully wrapped in a cotton bag, tissue paper or kraft paper and then securely stowed in a cardboard box ready for shipment.
Fair Trade
Fair Trade is not just an additional feature for us, but a matter of course! That is why we have chosen suitable companies in Europe and against cheap production in Asia or Eastern Europe.
It is essential for us that our products are manufactured under humane conditions from the extraction of raw materials to the final product. The close proximity enables us to gain a closer insight into the individual areas and creates significantly shorter transport routes, so that we contribute to immense CO₂ savings and to the well-being of the environment.
Our products and their packaging are largely made from biodegradable raw materials that come from sustainable agriculture. By producing in Germany, France, Austria and Portugal, we can fully guarantee compliance with EU environmental standards compared to products produced in Asia.