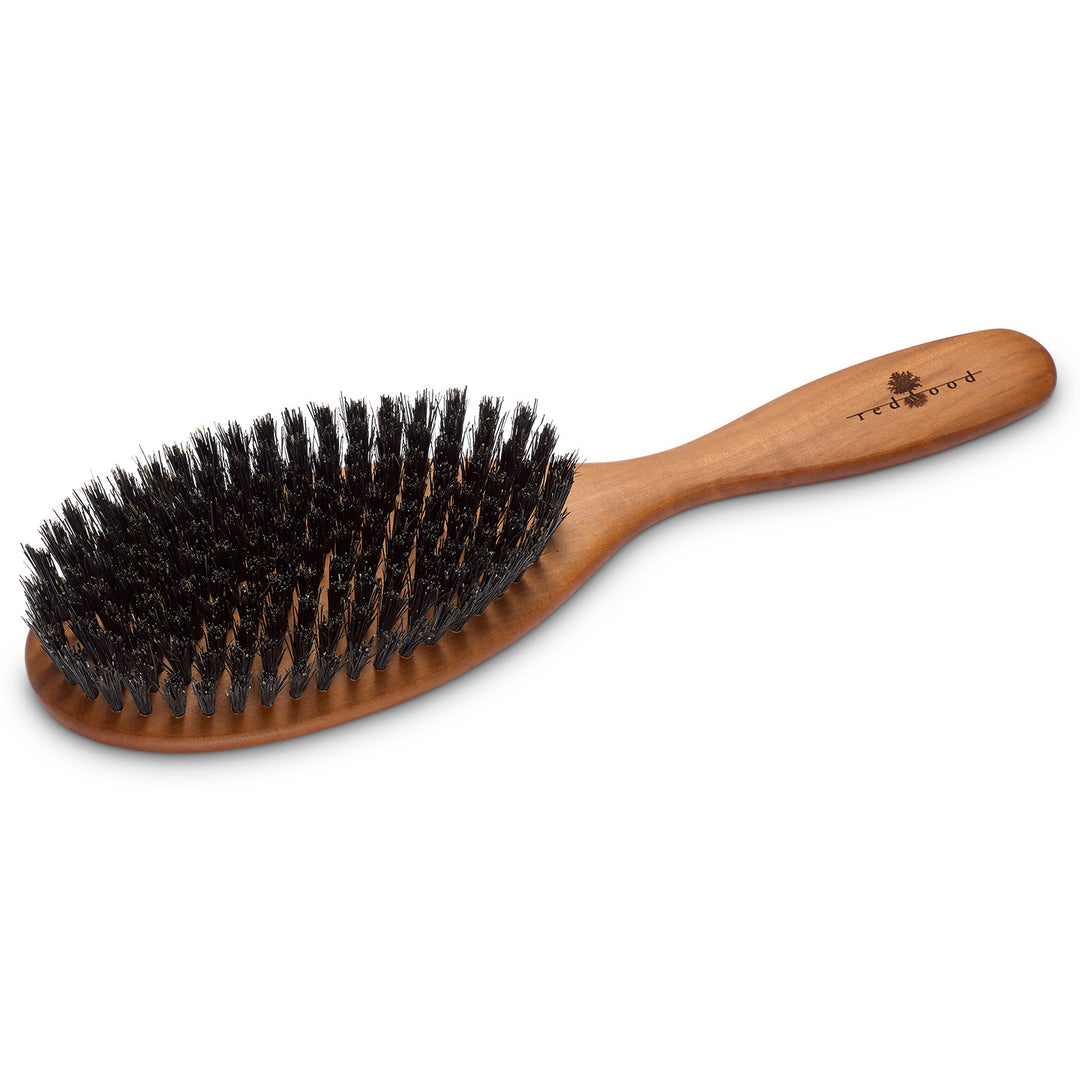 Classic hairbrush, pear wood, waxed, for short to long, straight or wavy hair
RW500430
Regular price
$26.95
Sale price
$25.95
Save 4%
/
excl. VAT.
Shipping
calculated at checkout.
---
This classic hairbrush is characterized by its wide brush bed, which is made of high-quality pear tree and studded with exquisite boar bristles. With the softly rounded edges as well as the narrow handle, the hairbrush is extremely comfortable to hold, even with frequent use. The staggered bristles gently penetrate your hair while brushing and massage the scalp at the same time. This promotes blood circulation to the scalp and stimulates the hair cells.
Dimensions of the hairbrush
Length: 22 cm
Bristles: Narrow, firm black boar bristles, 10-row.
Suitability: short to long, straight or wavy hair.
Advantages of the hairbrush
Very natural, pleasant feel.
No sharp edges that hurt or even cut the hair.
Natural, high quality bristles that promote a healthy hair structure.
Made from organic, CO₂-binding wood.
Raw materials are sourced exclusively from sustainable forestry and agriculture.
Our real wood hair brushes have a long service life.
Waxed body for sealed surfaces and even more protection
Easy cleaning to maintain the quality of the hairbrushes.
Made in Germany.
Material
Our classic pear wood hairbrushes are made of high quality pear wood and studded with selected wild boar bristles. The raw materials come from sustainable forestry and agriculture and are processed in a German company under the highest precision. This is based on an elaborate manufacturing process that guarantees smooth surfaces and ensures gentle treatment of your hair as well as scalp.
The boar bristles have a similar structure to human hair. This enables them to absorb excess sebum from the hair cells and distribute it to the tips of the hair during brushing. This is equivalent to a natural hair treatment and gives your hair a healthy shine.
Since the wood grain of the hairbrushes always varies, each of these utensils is a small charming unicum.
Care instructions
Use our Redwood Brush Cleaner to effortlessly remove lint as well as snagged hair from the spaces between the bristles. Clean the hairbrush from time to time with a mild, silicone-free shampoo or soap and warm water, then rinse under cold water.
Dry the wooden body with a soft cloth and let the brush dry standing on the bristles. Regular oiling with a natural oil such as linseed oil or olive oil maintains the wood and at the same time protects it from moisture.
Packaging and shipping
When packaging our products, we strive for a reliable balance between transport safety and sustainability. Therefore, we use only recycled paper, cardboard boxes as well as environmentally friendly packing tape and cotton bags made from naturally renewable raw materials. Each item is carefully wrapped in a cotton bag, tissue paper or kraft paper and then securely stowed in a cardboard box ready for shipment.
Fair Trade
Fair Trade is not just an additional feature for us, but a matter of course! That is why we have chosen suitable companies in Europe and against cheap production in Asia or Eastern Europe.
It is essential for us that our products are manufactured under humane conditions from the extraction of raw materials to the final product. The close proximity enables us to get a closer look at the individual areas and creates significantly shorter transport routes, so that we contribute to immense CO₂ savings and the well-being of the environment.